BE STILL AND KNOW THAT I AM GOD PS 46:10
Regular price

$68.95

Sale price

$68.95
Bracelet Details
Inspire Me Bracelets are beautiful reminders that are crafted with earth stone beads and featuring a message of inspiration engraved on a stainless-steel bar.  Wear them throughout the day to fill your mind with inspiration.

Inspire Me Bracelets are made with 100% all-natural gemstones with a beautiful 403 grade stainless steel bar (rose gold bars are plated with 14k rose gold).

The bracelet bars have NO nickel or lead to ensure the bracelets are tarnish resistant and hypoallergenic.

Each of our bracelets are made with a strong elastic string making them super easy to put on and great for comfortable wear.
Size Information
Small - Wrist sizes 6 inches to 7 inches
Medium- Wrist sizes 7.1 inches to 8 inches
Meaning Behind The Message
BE STILL AND KNOW THAT I AM GOD. To achieve inner tranquility and outer peace, requires a balance of activity and stillness. Too much noise and confusion can create minds that are agitated, and bodies that are tired and rundown. Times of quiet meditation counteracts damage that busy lives have inflicted on our body, mind and
soul. Find a time today to unplug from technology and noise, and listen to nothing but the silence that surrounds you. Make a special effort today to escape from people and problems and be alone in solitude and silence by yourself. The stillness of quiet moments calms the mind, relieves anxiety, and soothes away stress. Forming this habit of daily stillness creates mindfulness and awareness. Meditation will change the energy field around you. Your energy field that surrounds your body affects everything from your mood to your metabolism. Einstein proved that E equals MC Square (energy equals matter). After marinating in a sweet savory sauce, a tough tasteless piece of steak transforms into a tender delicious fillet. What energy field is your body marinating in now?... social media… politics… pandemics? Stillness will saturate your mind with positive energy. Therefore, marinating in better energy will produce better results. Absorbing positive energy will create positive benefits. Wear this bracelet to challenge you to create five minutes of quiet time every day. For the next seven days find a space to be alone … to remember to BE STILL AND KNOW THAT I AM GOD.
Share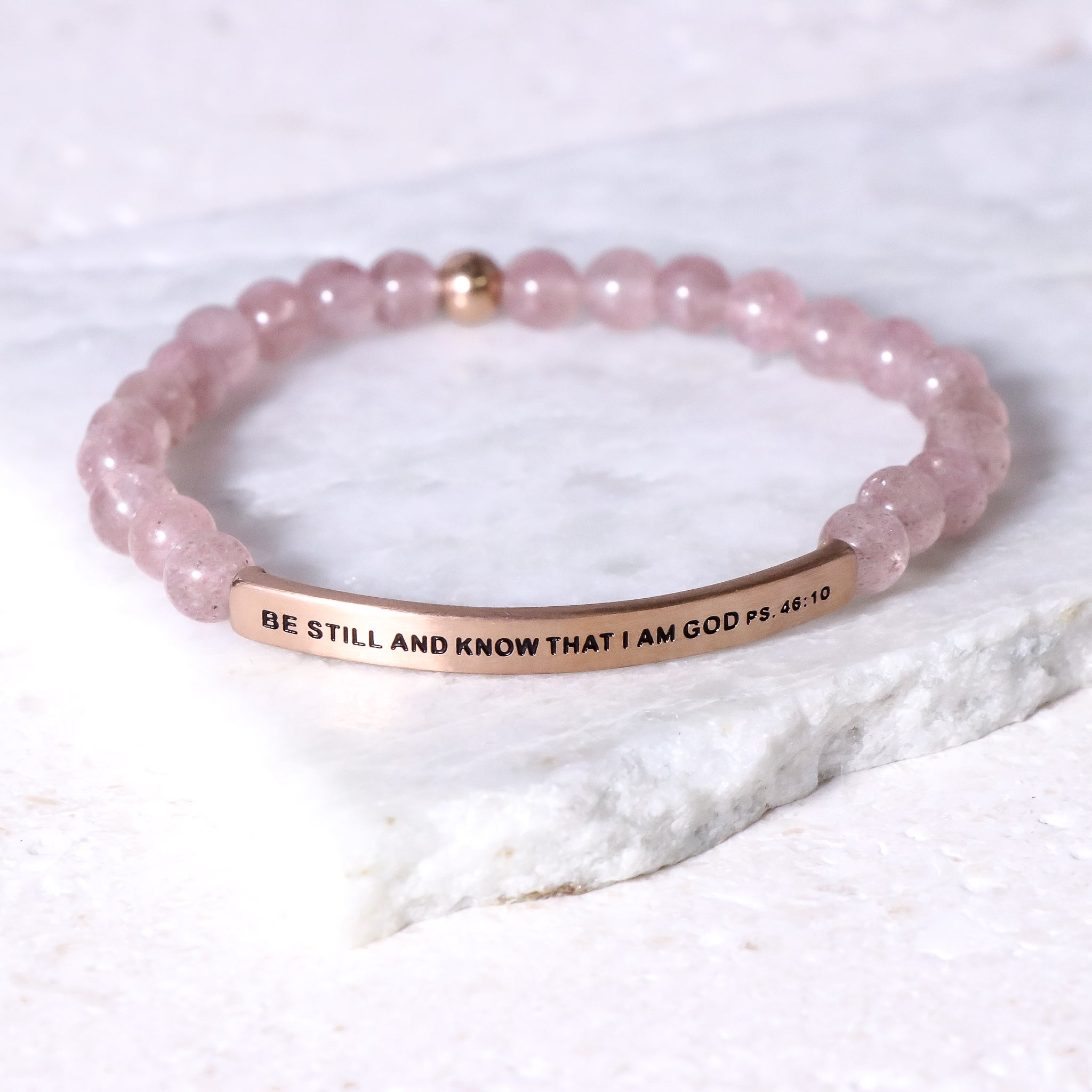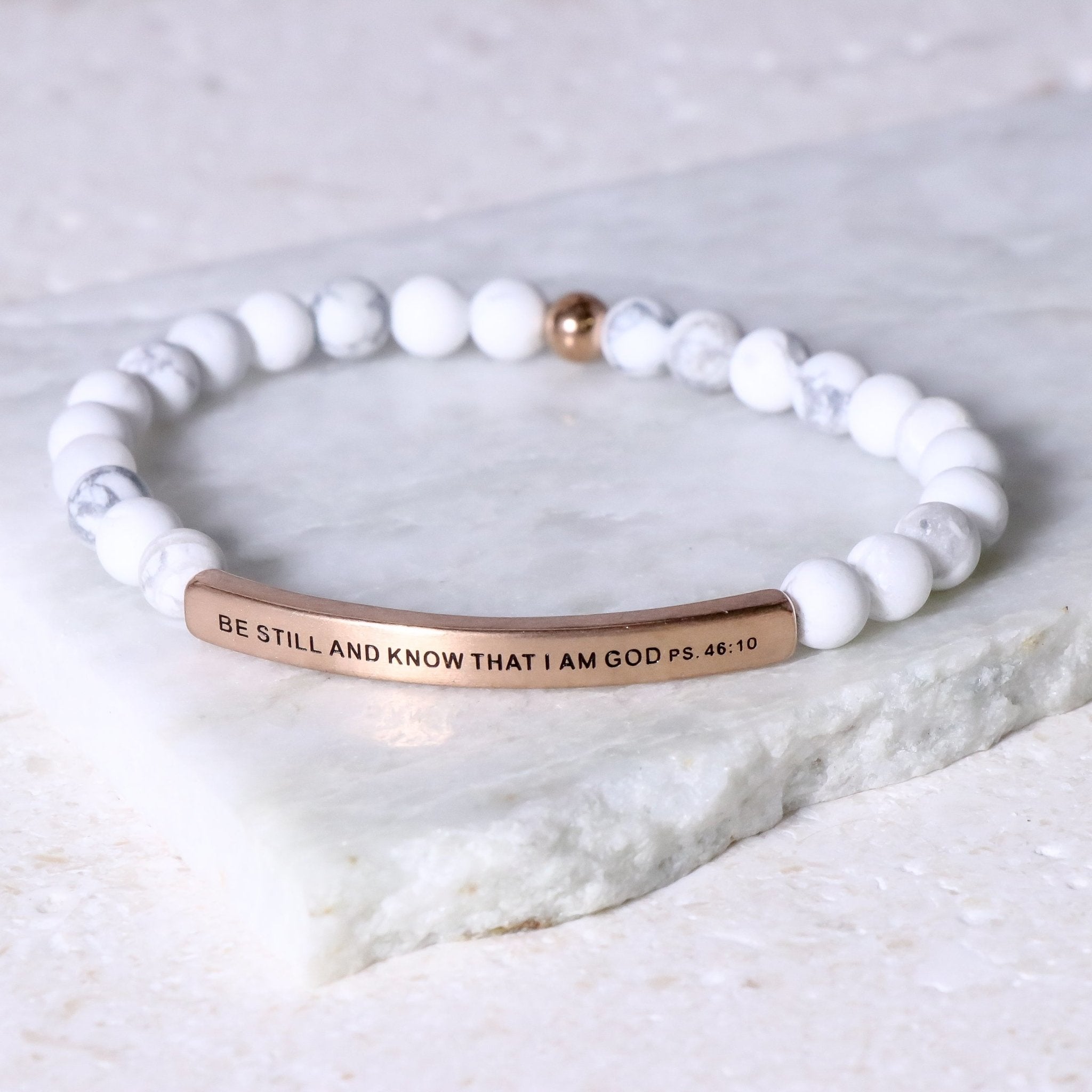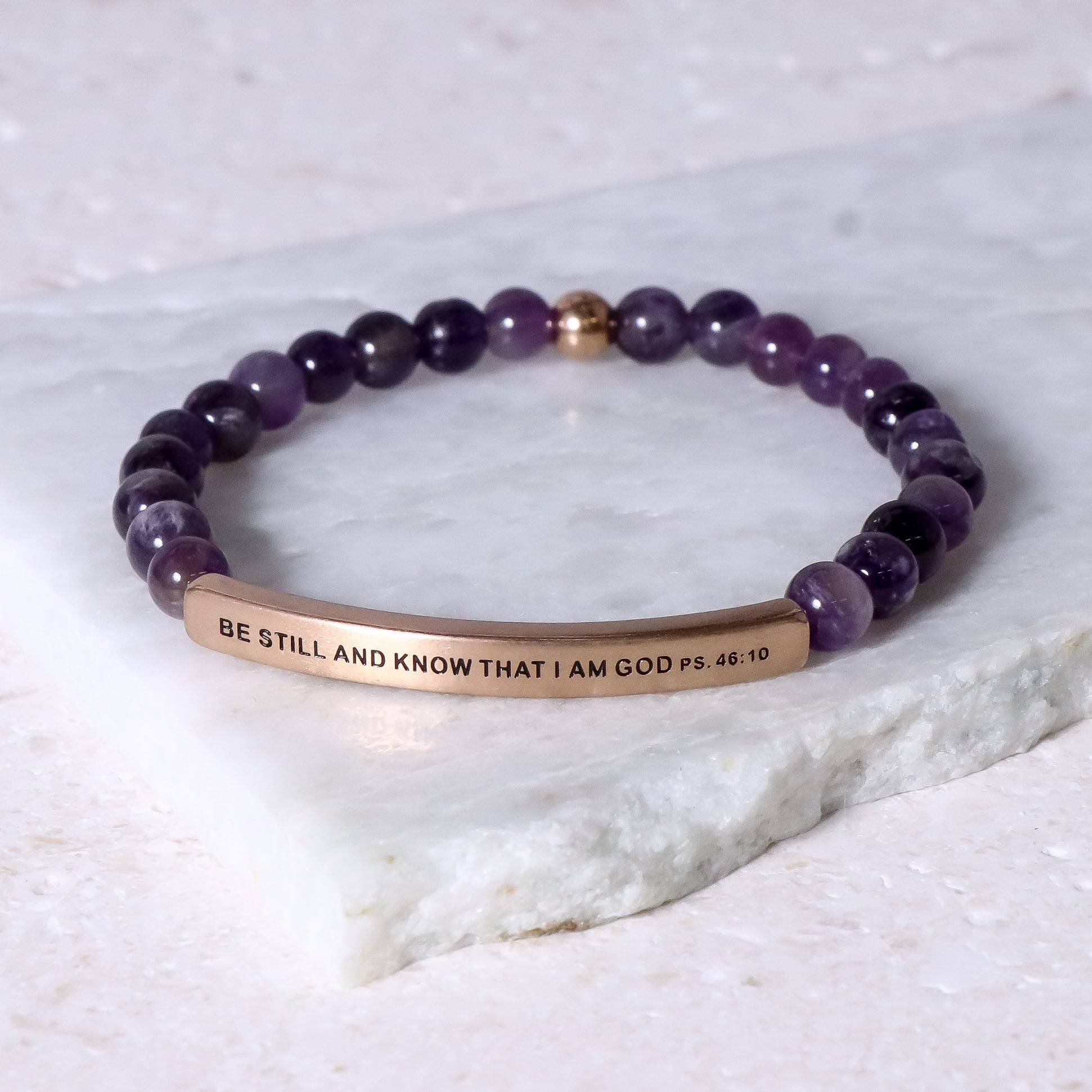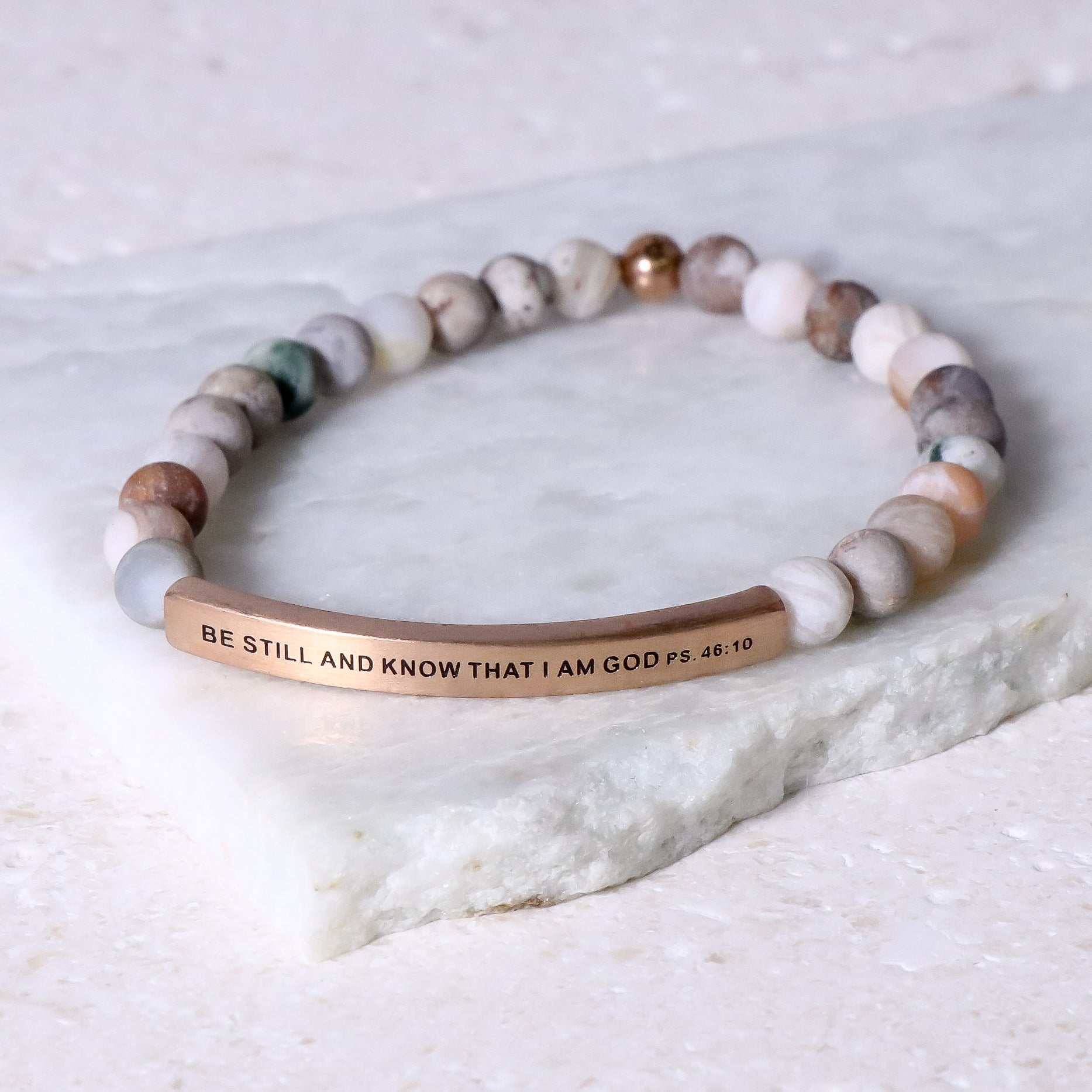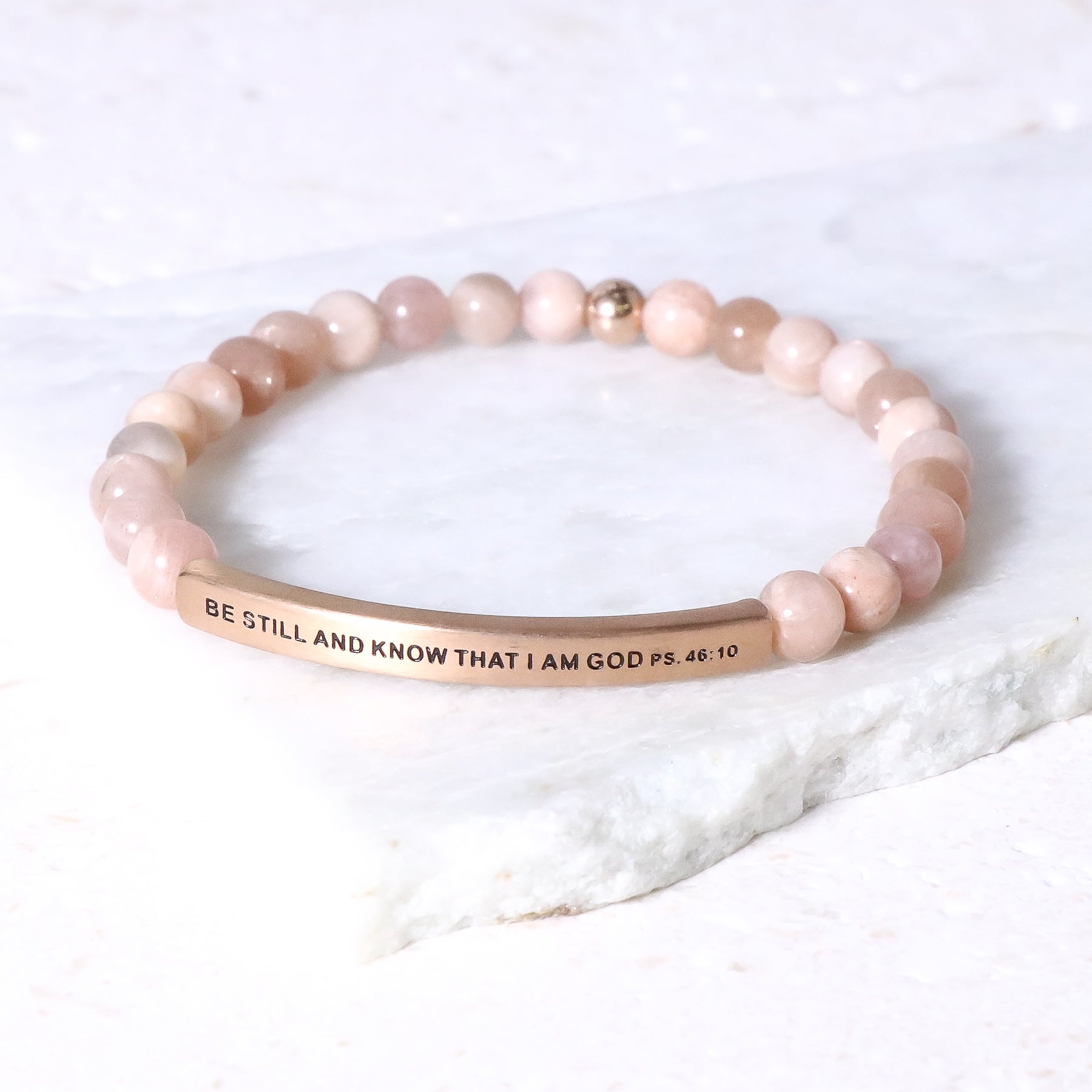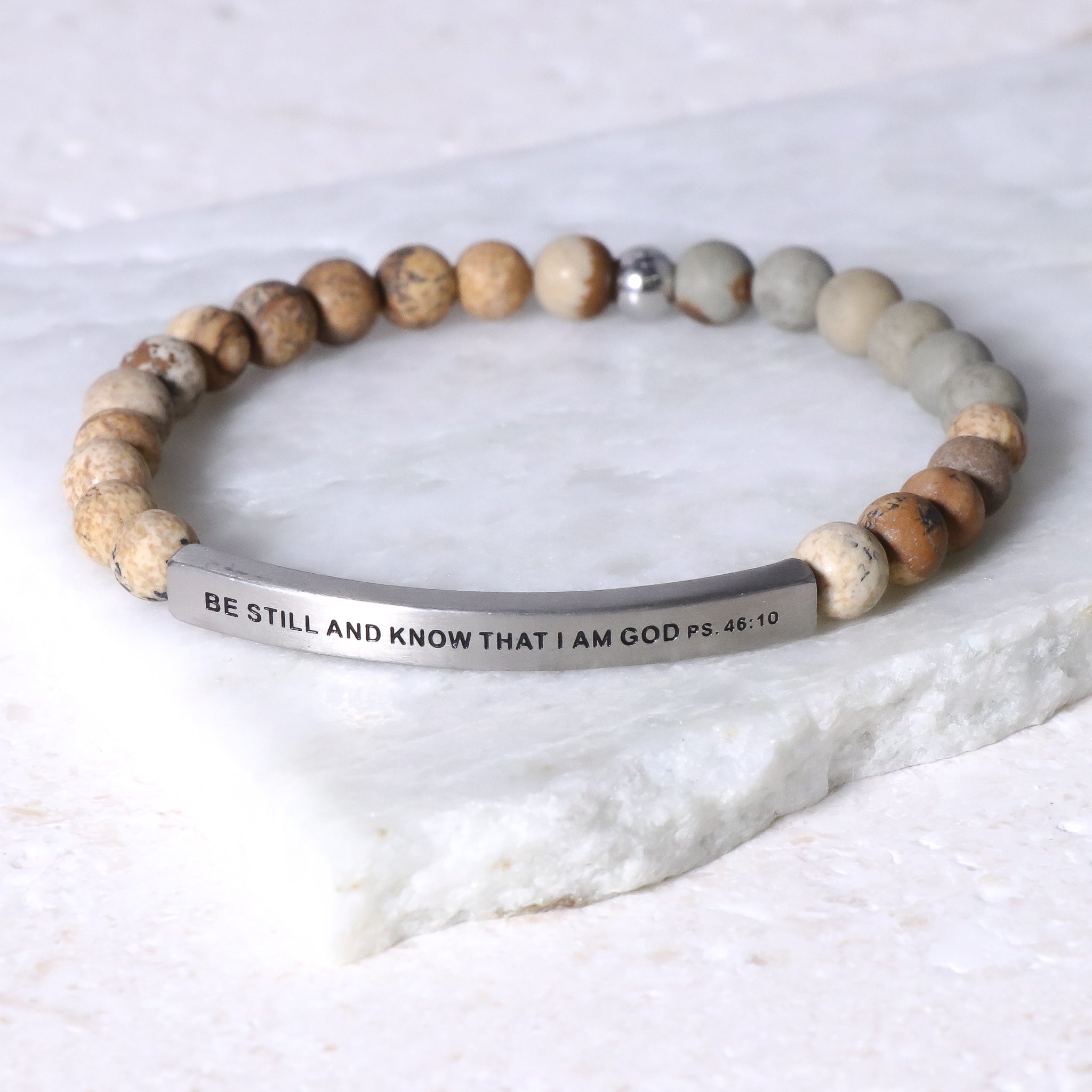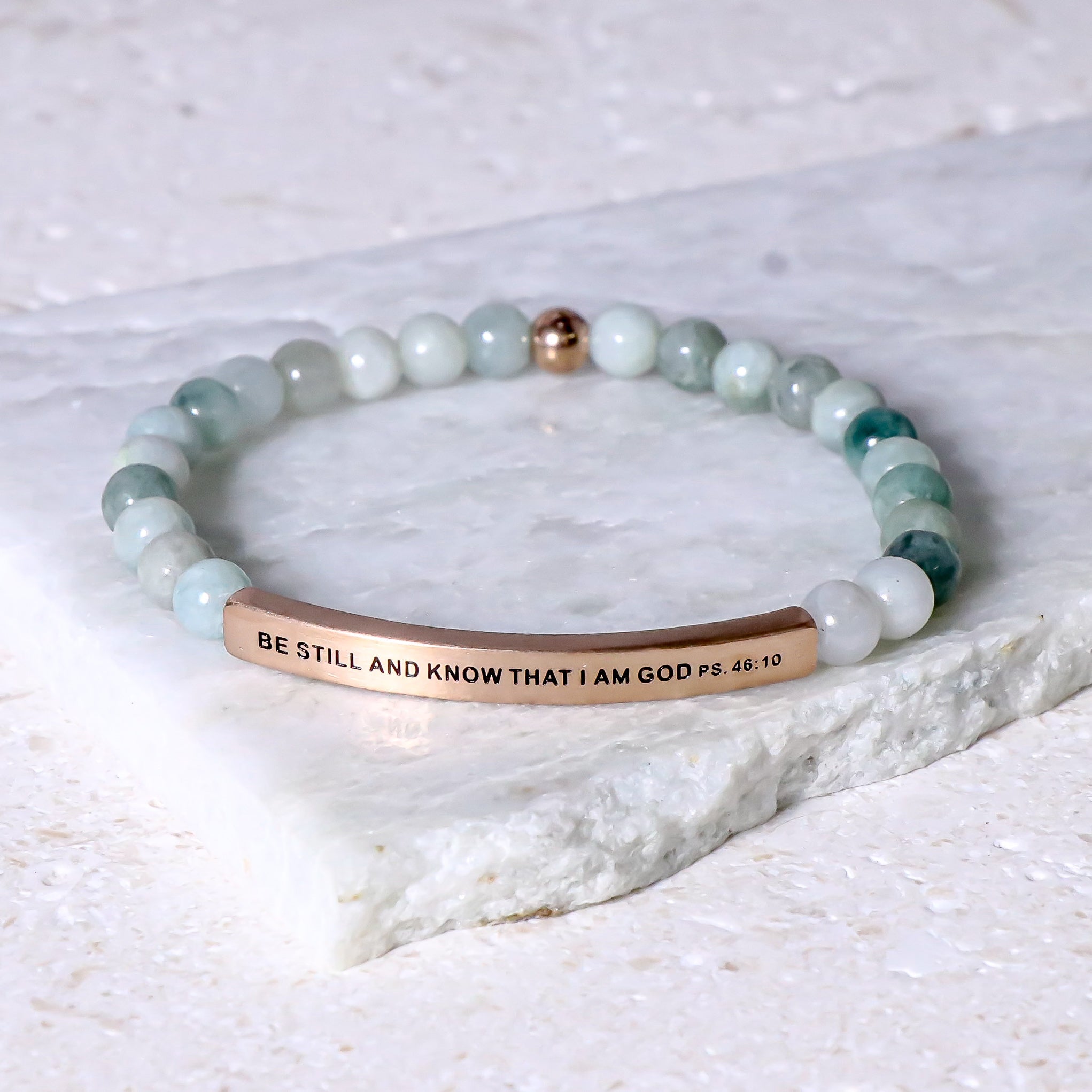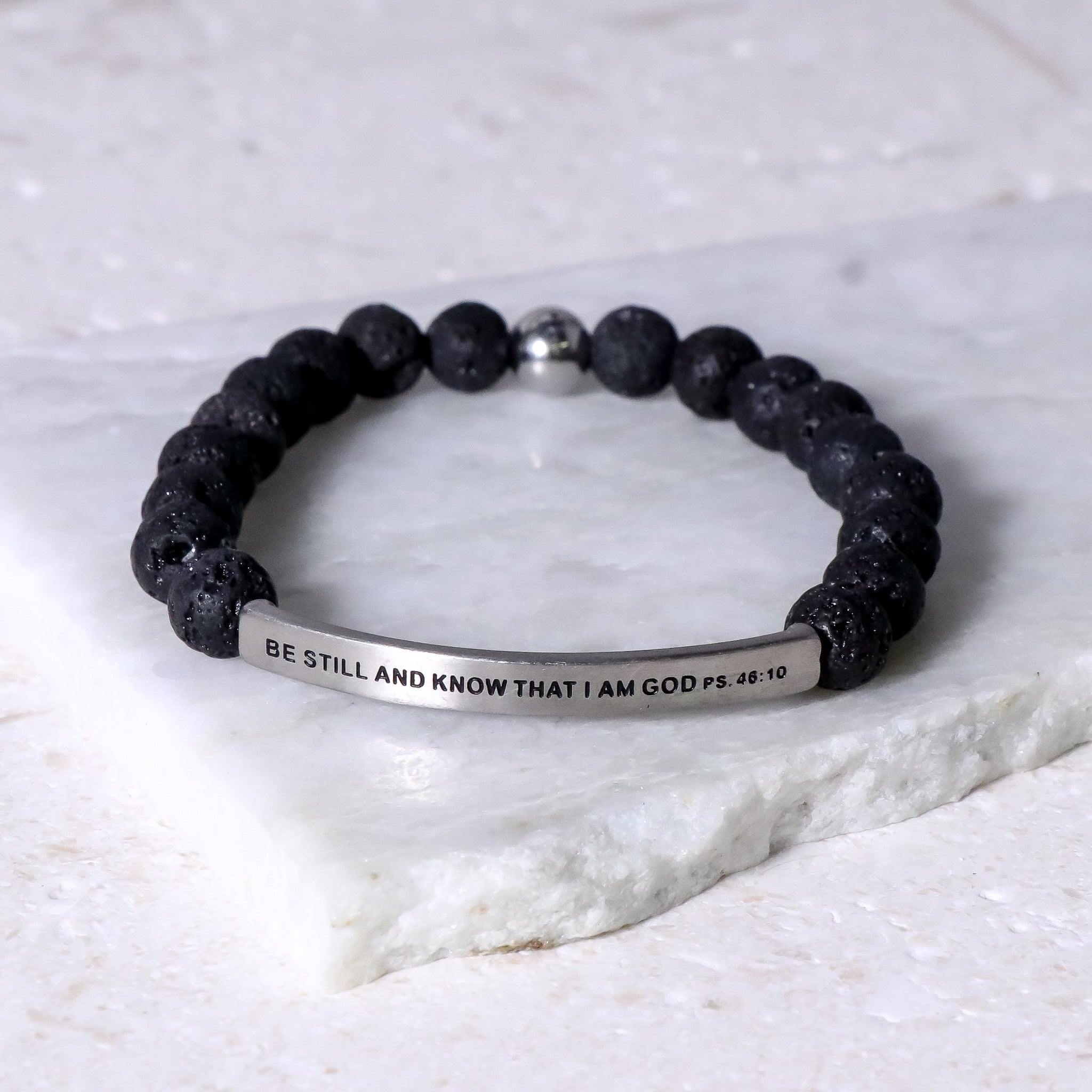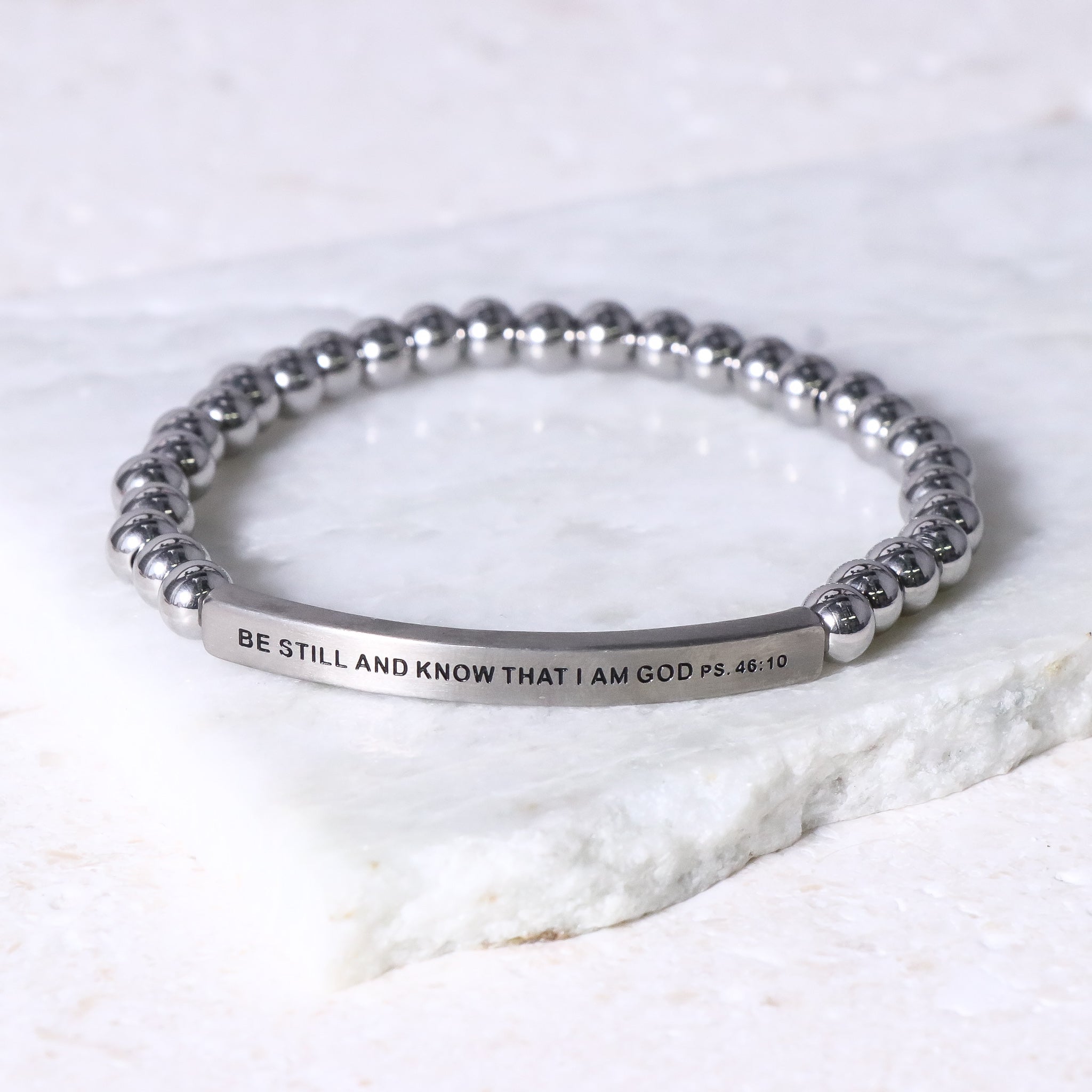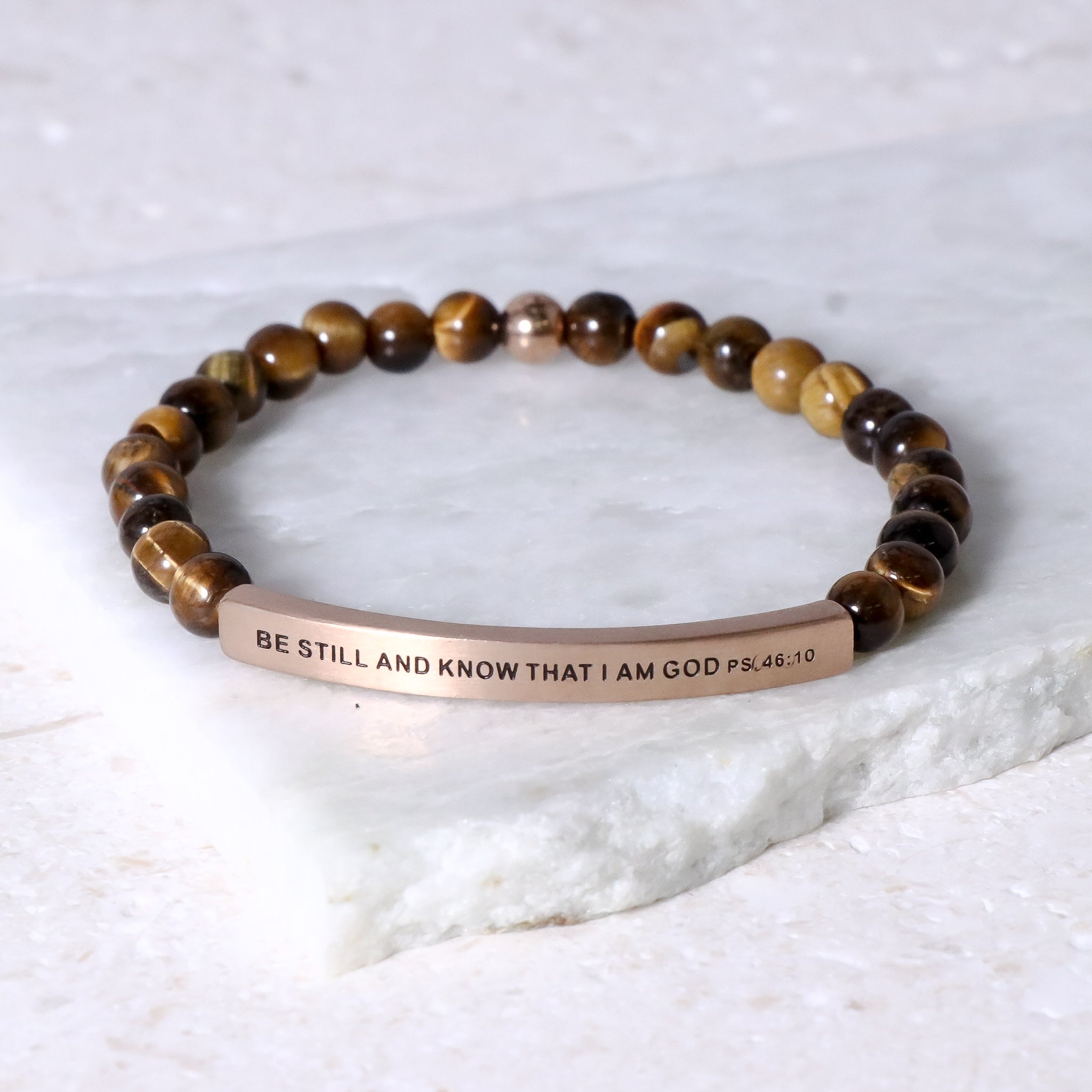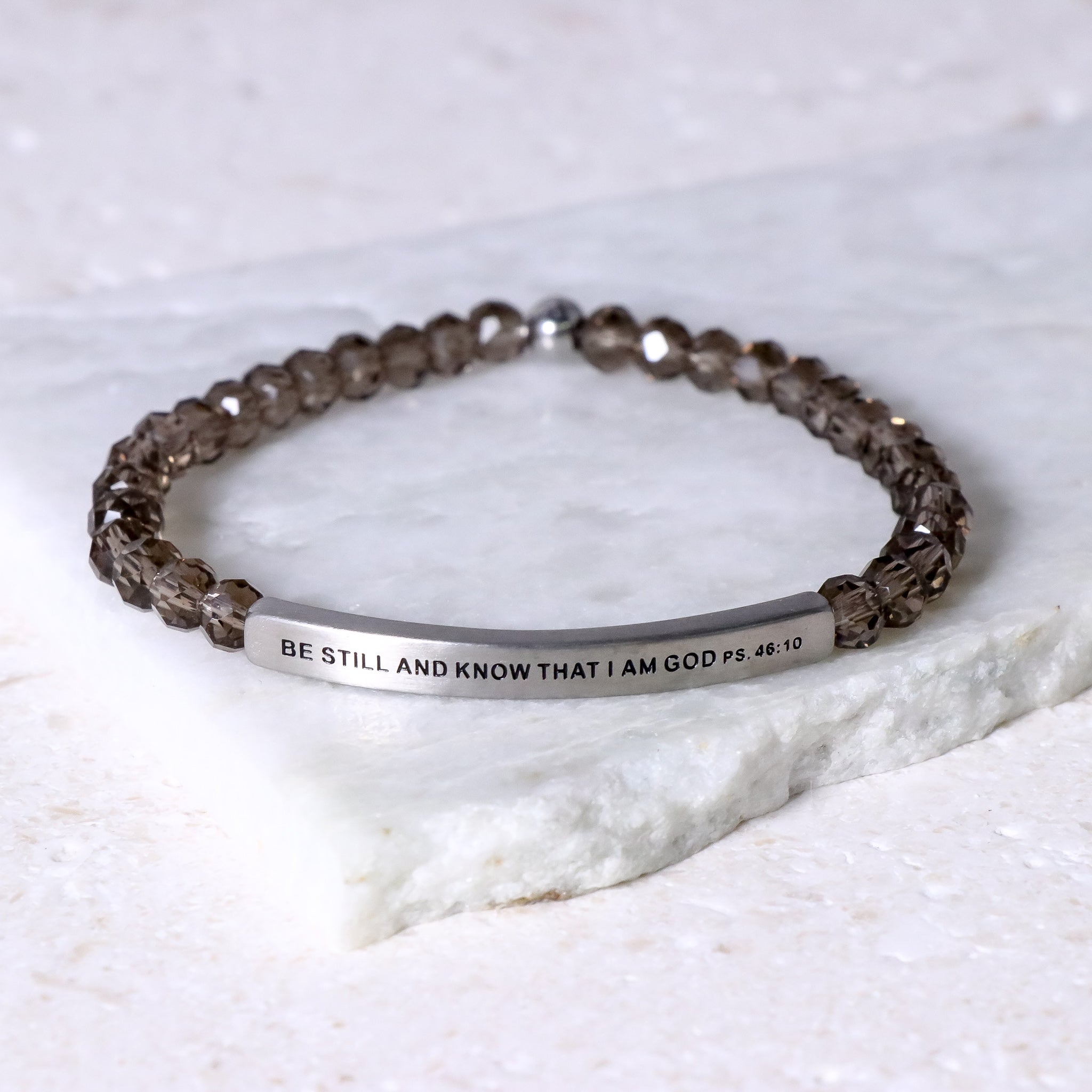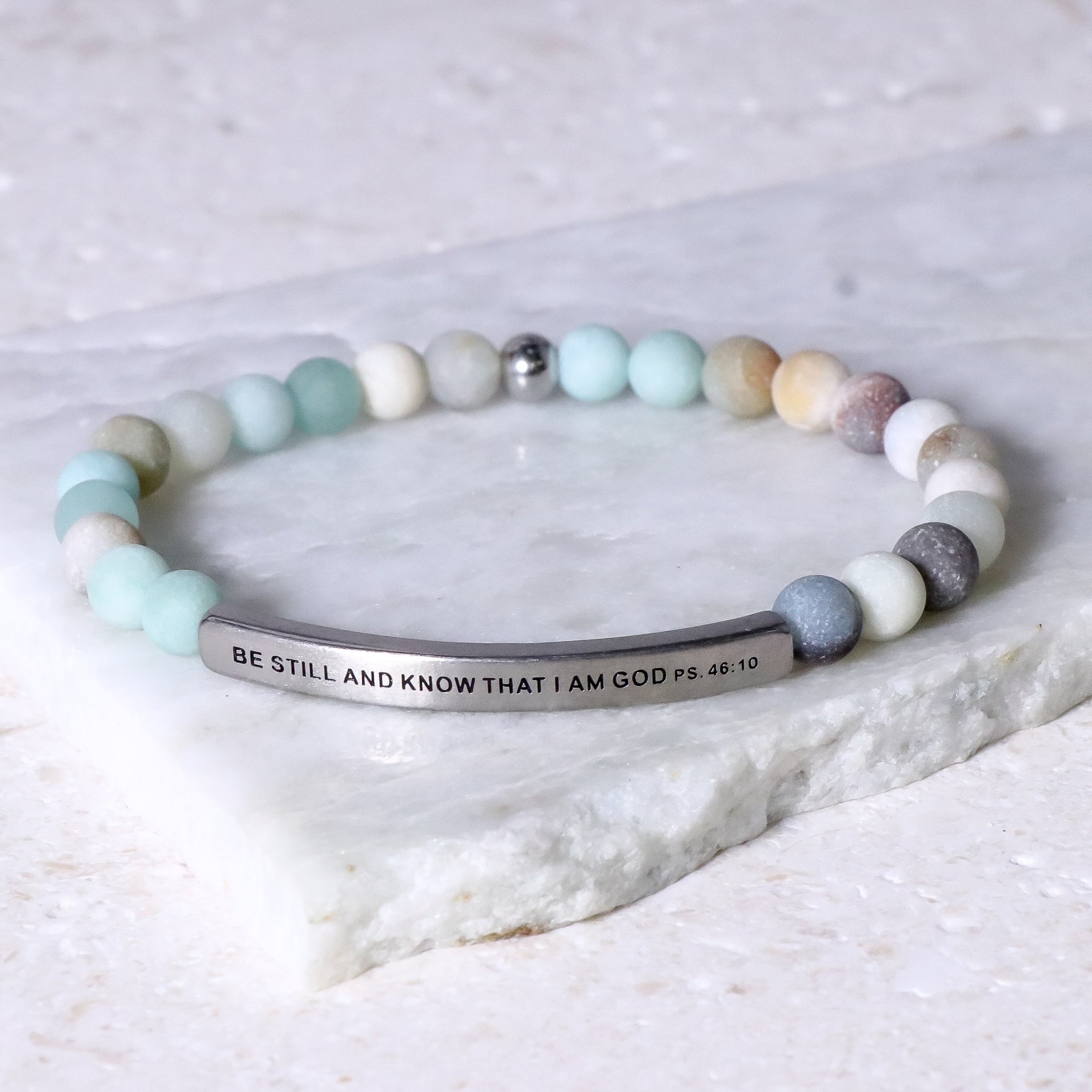 Guarantees
AMERICAN MADE

Our jewelry is made and shipped out of Fort Lauderdale, FL.

FAST SHIPPING

We ship all orders within 24hrs of your purchase Mon - Fri.

ALL NATURAL MATERIALS

Made with all natural earth stones & stainless steel.

HAPPINESS GUARANTEE

We're not happy until you are.
OVER 400,000 FIVE STAR REVIEWS





I cried when he gave it to me!

Alana Kramer
I wear mine everyday...its the perfect reminder to stay focused on what really matters.

Jessica Henderson
It's like a love letter I get to wear.

Brittany Evans
My story is simple, I vow to choose joy everyday...and this bracelet is the perfect reminder to do so.

Liz Newcomb
My daughter and I have matching bracelets and its a gift i truly cherish.

Michele Odom
FAQs
What is your jewelry made of?

All of our jewelry is made of hypoallergenic, lead-free, and tarnish-resistant stainless steel, making everything both durable and gentle on your skin. Our rose gold pieces are double plated with 14k gold, adding a timeless touch of elegance to every item. What truly sets us apart is our commitment to using only natural earth stones in our designs. Our jewelry is a reflection of nature's finest - a fusion of nature's raw elegance and timeless beauty.
How do your bracelets work?

A negative mind will never produce a positive life, but the power to transform our reality lies within our own thoughts. To achieve a positive life, one must rewire their thought patterns. It's remarkable how a single, small reminder worn on your wrist can inspire you throughout the day, guiding your focus towards the abundance of goodness that surrounds you. The happiness of our lives depends on the quality of our thoughts. We wholeheartedly believe that where your focus goes, energy flows, and by choosing to focus on the good, you pave the way for a life filled with joy, hope, and endless possibilities. Our jewelry serves as a tangible reminder to sprinkle a little kindness, hope and love everyday...creating a ripple effect of positivity around each of us that will change the world for good.
What is the mission of The Inspiration Co?

We believe we were all created on purpose, for a purpose. We each have a responsibility to leave the world a little better than when we found it.

We believe if we each can sprinkle a little kindness, hope and love everyday, it will create a ripple effect of positivity around each of us that will change the world for good. We created three collections of positive engravings to partner with people in their intention to make a difference both in their own lives and the lives of the people around them. One small reminder you can wear on your wrist to inspire you throughout your day.

We believe a negative mind will never produce a positive life. To achieve a noticeable improvement in our health, relationships, and finances, general thought patterns must be interrupted and rewired. Negative mental strongholds must be rebuilt with new optimistic beliefs.


We believe that life is 10% what happens to you, and 90% how you react to it and that happiness is a choice you make and not just a feeling you have. So the words on these bracelets are designed to encourage and motivate us to transform our reactions and improve our responses. Your mind will believe anything you tell it. Feed it faith. Feed it truth. Feed it love. Bad habits that we have learned in the past will slowly dissipate as we reprogram our minds with these new positive mental thought patterns.


We believe that this is the day the Lord has made,so we will rejoice and be glad in it. Our mantra is to focus on the good stuff. That the happiness of our lives depends on the quality of our thoughts. We believe where your focus goes, energy flows. And when you focus on the good, the good gets better. (BASED ON MATT 13:12) We believe that life is beautiful… and there is always, always, always, something to be grateful for. And when you can't find something good… be the good you wish to see


The concept is simple. But this is so much more than a bracelet. It's a mission to inspire the world, one wrist at a time. Because a bracelet can't change the world… but the people who wear them can.

Does your jewelry come with a warranty?

The Inspiration Co. offers a 6 month warranty on all jewelry.
If for any reason your jewelry is damaged or broken within 6 months please email us at contactus@inspiremebracelets.com to receive a
replacement. The warranty does not cover lost items.  In order to activate the warranty you must be able to present us with a receipt as
well as the piece of jewelry or a picture of the jewelry.


EXTENDED WARRANTY INFO

Our extended warranties cover 1 damaged or broken item.  Each item you purchase would need an extended warranty if you would like to
cover it longer than the given 6 month time frame that comes with all of
our jewelry pieces.  All warranties are good for 1 use.